3 Ways to Carry Two Phones Better
June 22, 2018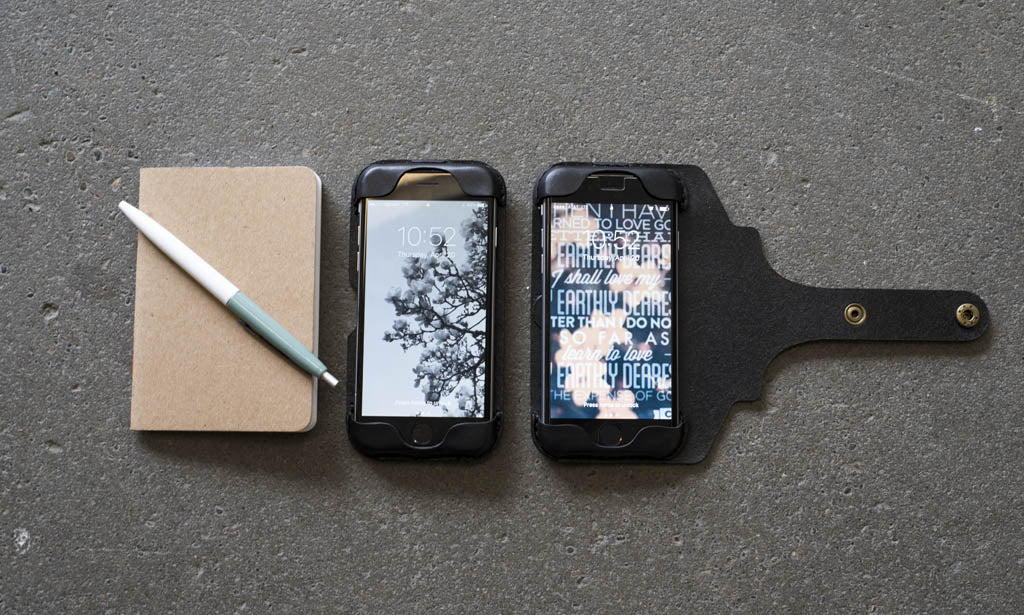 Until Apple and Samsung are put under enough pressure to release dual SIM logins on one device, many professionals are stuck carrying two phones throughout the work week. One given to them by their employer and another device for personal, everyday use. Like, ya know, for Netflix, Instagram and… no that's pretty much it. Most people find the idea of carrying more than one phone a total nightmare but if you do it mindfully then it can actually be a blessing during your off time. Below we talk about three ways to manage two phones at once.
Step 1
The first step? Purchase one case to carry both phones. A double cell phone case is difficult to find as your two devices are not necessarily the same size or even made by the same company. However, we firmly believe keeping both phones together is a necessary part of "two phone sanity", which is why we made a dual phone case that does just that and is detachable. The separability of our two phone case is arguably it's most important feature.
Why? During the week you will generally need your work phone on your person before and during work hours in addition to your personal device. Carrying your phones in one case cleans up the clutter and reduces confusion. Now you won't have to dig through your pockets or purse trying to find the right phone, and if you get two calls at the same time you can simply open up the case and see both incoming calls at once and decide which to answer and which to ignore. It's ok, your parents will understand, right?
The detachability comes into play on your lunch break, off hours and over the weekend. There's no point in lugging around a phone you aren't using, so simply separate the two halves and only carry the phone you need. Our case is designed to offer the same amount of protection against damage whether the case is connected or detached so there is no need to be concerned about dropping your phone when the case is separated.
Although people have started to address the need for dual phone cases, there are still very few options available on the market and none of the other options gives you the array of device options that we do. Also the Hand and Hide double phone case is made from imported Italian leather for amazing and long lasting durability.
Step 2
Be very disciplined about using your phones for their assigned purpose. Never give out your personal number or contact info to business associates or coworkers. Also, if you help manage business related accounts for social media etc, keep them logged in on your work phone and don't login to your personal accounts on your work phone, ever. If you keep your work life and personal life separate and their associated phones separate as well, then you won't run the risk of missing an important communication that came through on the wrong device. It also helps you really take a break from your work phone and teaches your employer and coworkers to know what hours and days they can reach you.
Step two and step three, which we will get into more later, are really about boundaries that make your brain happy. By keeping these two worlds separate your brain will naturally categorize the two phones differently and associate different meanings, contexts and feelings with them. For instance, if you are dealing with stressful emails from your boss and then get a text from a family member, you may associate negative or stressful connotations to an otherwise innocuous communication. Not to mention it is simply overwhelming to juggle both circles at once. Additionally, many professionals with two phones find it easier to turn off their personal phone while at work. They feel less distracted from the tasks at hand and enjoy setting the expectation with friends and family that they unavailable, except for real emergencies, during work hours. Your work and personal life really are two separate worlds and dealing with two at once leaves you drained and ineffective in either one.
Step 3
Turn off your work phone whenever you are not at work. Gasp! Yes, it can be done! When you are at work and using your work phone, your brain will likely associate some level of stress (remember not all stress is bad) with the work phone because it brings in more problem solving opportunities than your personal phone (we hope!). After the work day is over and you are heading out or heading home, you can separate your phones and turn your work phone off. After you have done this a few times your brain will recognize that "work" time is over and will most likely stop the background work chatter in your head. Leaving you free to enjoy your time off without distraction. Turning your phone all the way off and possibly stashing it out of sight is absolutely essential to your peace and enjoyment during off times. The need to watch for an important email etc is very strong, so make it as annoying and difficult as possible to access your work life. That way you can resist the temptation to check-in and become embroiled in office related issues over the weekend. Then you can give your full attention to the people and things around you.
Although using two phone case carries a stigma of stress and frantic behavior many people are finding that it helps them maintain the divide between work and personal time. Employing this practice will deepen your relationships, eliminate work stress at home and create more space for rest and recovery from the demands of the work hours. Human beings need break time, and we also need beginnings and endings. This practice will help you to fully enjoy and rest during your evenings and weekends and make you that much more productive and focused during work hours.
Hand and Hide has been crafting leather phone wallets and other tech accessories since 2011. Their cases last for years and years and look stylish and professional at the same time. Hand and Hide handcrafts and hand stitches all of their leather goods here in Pacific NorthWest. Shop the
dual iPhone case
and more here.
Leave a comment
Comments will be approved before showing up.