Do Leather Phone Cases Really Protect Your Phone?
August 23, 2017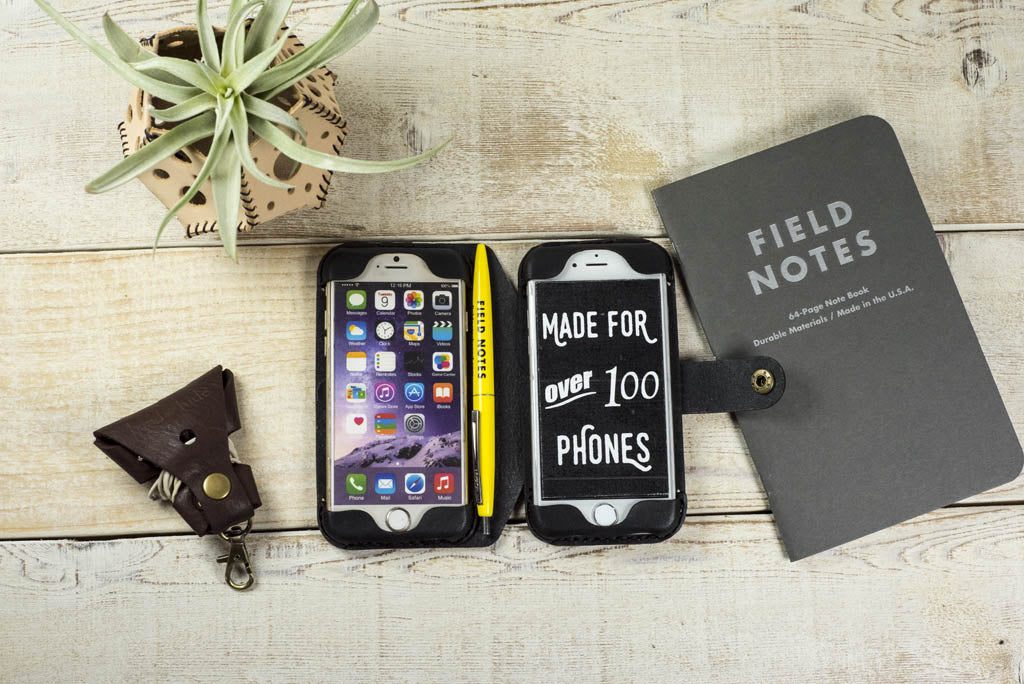 You might be wondering:
Can a leather goods store really give me an unbiased answer about the durability of leather phone cases?
The answer is YES.
For 2 reasons.
First of all, we are well-acquainted with leather; having worked with it and made leather phone cases for years, since 2011.
Secondly, our experience with hand making phone cases over the years has been deeply influenced by some very important people.
Who are these valued geniuses who influence our design choices?
You know it…
It is our customers!
We have heard back from hundreds of customers over the years. About what they liked and did not like. About what we could change or improve. Our customers have always been totally honest with us about what does and does not work for them and their phones.
We are so thankful for our customer response because that has allowed us to improve our design over the years until and make all of our customers happy. Read on to see what our customers have said over the years.
Instead of telling you ourselves whether or not leather phone cases really work, we thought we would our customers do that for us.
Scroll down to see how what real life Hand and Hide customers have said about their leather phone cases.
So, do leather phone cases actually work?
We can confidently say, thanks to our customer's responses, that our leather phone cases do indeed protect delicate smartphones from damage. And none better than a Hand and Hide leather phone case. Read below to see the 3 main reasons our customers love their phone wallets and depend on them for the long life of their device.

3 Reasons Leather Phone Wallets Are the Best
There are 3 main reasons we believe that Hand and Hide cases are better than the competition out there.
Durability.

Aesthetic.

Functionality.  
Let's address each of these topics with responses from our customers.
Just How Durable is Leather Really?
It isn't enough for you to hear us say that our phone cases are durable. Why not hear directly from many of our ecstatic customers who took the time to come back and review their Hand and Hide phone case.

These happy customers were so overjoyed about the longevity of their cases that they had to share their experience and help others like you have the confidence to buy from us.
Leather Phone Case Reviews:
"I think the phone cases made by Hand and Hide are beautifully crafted with quality materials. I drop my phone almost daily and it is perfectly protected in its Hand and Hide case. In fact, I have no doubt that the case will long outlast the phone. Any ideas on how to recycle these great cases?" - Catherine Clement 4/21/2016. Samsung Galaxy S6.
"This is lovely, high quality, and protects my phone from frequent bumps and drops :)" - Heidi 1/8/2017. iPhone 7.

"Second time purchasing a cell phone case, and I must say that the quality is simply excellent. Last case lasted 3 years of continuous daily use, and could last another 10 years. A bit pricey perhaps, but worth every dollar." - Aly Bernd 6/5/2017. iPhone 7.
"I had already used a wallet case for several years and loved the idea of having everything in one place. It was a Pad & Quill case, made with a leather cover but a wood case. After dropping it several times, the wood began to crack. I made a new case myself out of a harder wood and that lasted, however the closing mechanism was an elastic cloth band that wore out quickly and also needed replacing--several times. Eventually, I dropped the phone when the band had come off, the case opened and the screen cracked. That's when I started shopping for a new one and found Hand and Hide. Everything about it is better: Without the wood it is lighter and smaller, it holds as many credit cards but doesn't bulge as much, the snap closure is clearly not going to wear out and means I don't have to worry about phone damage. Finally, it is beautiful. High quality, beautifully conditioned leather, hand stitched with heavy thread. Just looking at the photos, I was a little worried about how secure the leather mechanism to hold phone would be but it is solid. Also, made a call to Hand and Hide to enquire about some details and they were super helpful. Worth every penny. Love it." - John Michel, 1/27/2017. iPhone SE.





Are Leather Phone Cases Attractive?
Another thing our customers mention a lot of the time is how many compliments they received on their new case. Additionally, a good chunk of our business is returning customers. So you can bet that they have taken those compliments to heart.

Here are some sweet compliments from our returning customers:

"I highly recommend this company. This is my second purchase from them, I bought a case from them in early 2012 and it aged beautifully. I used it every day for 4 years and it's in better condition now than it was when I bought it because the leather is soft and broken-in. I was sad to replace it when my old phone died." - JR, 4/3/2016. iPhone 7.

"Love my custom iPhone wallet case. I sent my own mandala design for engraving and it looks spectacular! Ordered red and the plum color. They just get better with time!! Repeat customer here!!" - Julie Locklear, 8/28/2016.
"I am addicted to exquisite leather craftsmanship and this case fits the category. The hide is high end, subtle yet sturdy. The stitching is perfect. This phone case is elegant and low key. A piece of art. Congratulations." - emc, 6/29/2016. iPhone 6s.
"My husband has gone through several iPhone cases, but this one is built to last. It's heavy-duty, but slim enough for his front pocket. Very well made, real leather, and monogramming is a nice touch. Several of his friends have said, "nice case." I think they're jealous." - jannasperie 2/9/2015. iPhone 4.
"I truly love this item. This is my second wallet. I had the exact same one for my iphone 4S. When I decided to upgrade to the 6 I knew I had to purchase this wallet first. I take it with me everywhere and am constantly receiving compliments on it. It is expertly made. The salesperson at BestBuy told me that it was the best quality wallet phone case he'd ever seen. Thank you for making such a fantastic wallet!" - Meleah Boyle, 11/17/2014. iPhone 6s.


Are Handmade Leather Phone Cases a Practical Choice?
One of the things that our phone cases have that most other cheap manufacturers of phone cases don't bother with is a wallet side. Our phone cases are all designed with a functional wallet half for convenient storage of cash, cards and ID, right next to your phone. As life gets more complicated, it's important to make your days as simple as possible.

Hear directly from some Hand and Hide phone case owners about how our wallet pockets have improved their life.
"Very nice phone case. Leather is soft and of very high quality and the construction is excellent. I am replacing a a very nice slip case that cost much more and I like this case better. Price was excellent for such a high quality product. Very good service as well. Pleased with purchase." - Randy Joliff, 9/4/2016. iPhone 4.

"I bought a customised iPhone wallet/case over a year ago, and have used it every day.it is excellent quality and still looks as new.I will certainly be buying more products from hand and hide including another iPhone wallet/case once I upgrade. I live in the U.K. And have not seen such good quality at a reasonable prices." - Sophia 2.24.2017. iPhone 6s
"Excellent craftsmanship. The case fits my phone like a glove. and provides complete protection. Well worth the money. Big box store versions don't even come close to comparison." - Kesingertodd, 3/2/2015. Samsung Galaxy Note Edge.
"I am so in love with this item. I got mine laser etched with the floral design and wristlet attachment. My phone fits perfectly inside it, and it holds my four or so necessary cards well. This is a truly wonderful piece with both function and beauty." - Tamara Rutledge, 10/4/2015.
What's the bottom line?
Not convinced you need a phone case at all? Take a look at this article from the New York Times that breaks down exactly what cell phones do and do not need to enjoy a long life and avoid those annoying shattered screens.
Looking to create a custom leather phone case for yourself?
Call or email
with special requests or
head here to select your phone
and get started on the leather smartphone wallet you've been looking for.
Leave a comment
Comments will be approved before showing up.